Click the Donate button to give securely online!
We invite you to support our incentive program and be a part of a special fundraiser:
Walking for Dreams Family and Pet Walk
Sunday May 23, 2021
Held at the Evansville Riverfront and Tropicana Events Plaza
Walking for Dreams brings over 20 local non-profit organizations together, along with many members of the community, in an event to raise awareness and funds for programs that help better our community. This will be the third year Little Lambs will be participating. Please join with us by walking in person or virtually, by providing a donation to support the Little Lambs team, or by sponsoring Little Lambs for the day! If we raise $5,000, the event coordinators will make an extra $1,000 donation to Little Lambs!
Donations can be made directly to Little Lambs by clicking the donate button above. You can also sign up as a walker, start a team or learn more at https://www.walkingfordreams.org/.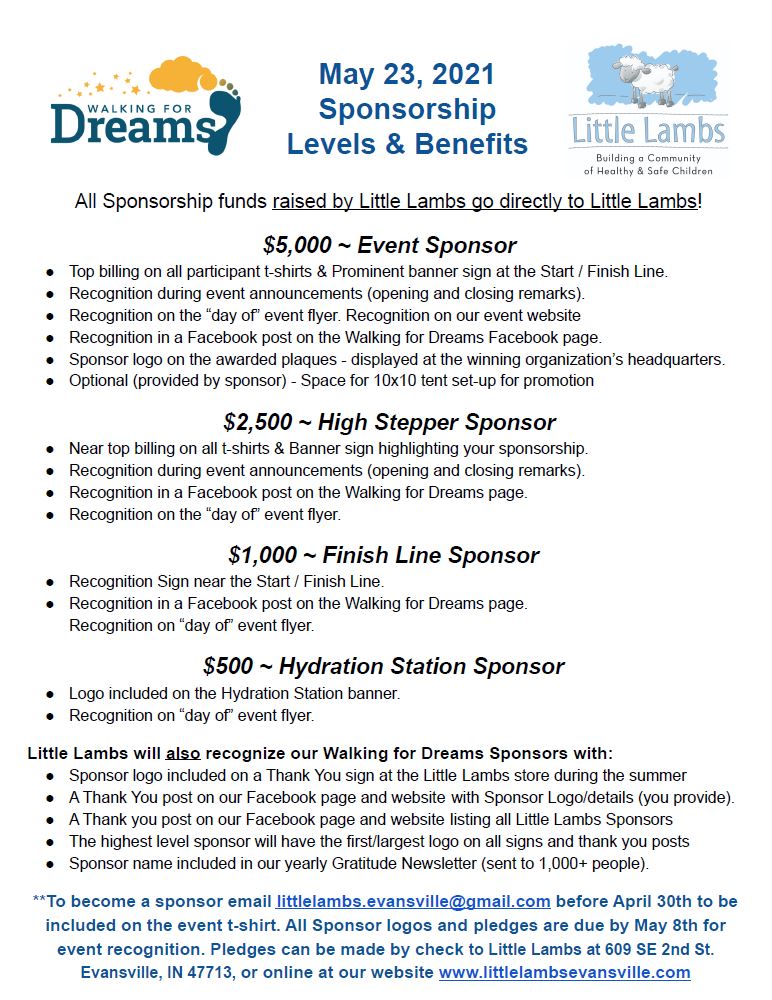 Thank You To Our Generous Donors This Past Year!
All of our Individual and Family Donors
State Farm
Signarama
Tri-State Medical Alliance
Deaconess
The Women's Hospital
Toyota
Vanderburgh Medical Alliance
Anthem
MDwise
CareSource
Mead Johnson Nutrition
Optimist Club
West Side Nut Club
Indiana Criminal Justice Institute
Paul & Holly Watzlavik & Walking for Dreams
Ireland Home Based Services
First Presbyterian Mission Committee
Ascension St. Vincent
Old National Bank
Vectren