During the coronavirus pandemic we are operating by appointment only for pick ups at the door. Please call Little Lambs at 812-425-5262 and leave a detailed message or fill out a store item request form and we will get back to you as soon as we can.
Please join us May 23, 2021 at the Riverfront for the Walking for Dreams Family and Pet Walk!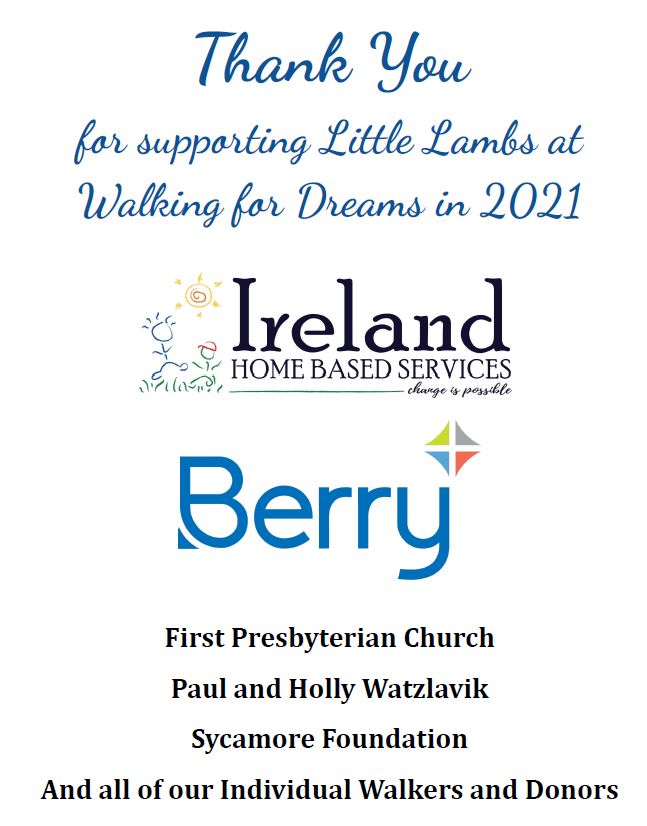 Please join us at the Walking for Dreams Family and Pet Walk!
Walk in person or virtually
Bring your family! Bring a friend! Bring your pets!
Provide a donation to support the Little Lambs team
Become a Sponsor and receive advertisement at the event and at Little Lambs
Our WFD Goal is $5,000! If we reach this goal a benefactor will match us 20% – totaling $6,000 to stock the Little Lambs store! That would pay for more than 100 car seats to families in need!
Walking for Dreams brings over 20 local non-profit organizations together, along with many members of the community, in an event to raise awareness and funds for programs that help better our community. This will be the third year Little Lambs will be participating. The walk is held at the Evansville Riverfront and Tropicana Events Plaza.
With your help we can meet our goal and help local families in need! Thank you for your support! Donations can be made directly to Little Lambs by clicking the donate button above. Sponsorship levels are listed on our support page.
COVID Policy: Little Lambs is available by appointment only on Saturdays from 10 am to Noon and on Wednesdays from 1 to 5 pm. Time slots are available for items to be picked up outside of the entrance as the building remains closed at this time.
To make an appointment call 812-425-5262 and leave us a detailed message or email littlelambs.evansville@gmail.com. Thank you!
Learn about Little Lambs' history and mission!
Since 1995 Little Lambs has helped safeguard the health and well-being of our youngest and most vulnerable citizens. Little Lambs has accomplished this indirectly, but effectively, by creating alliances with professional organizations that provide pre-natal and pediatric care, behavioral services, nutrition, drug and alcohol education and rehabilitation, and more. When parents obtain services from partnering organizations, they are rewarded for positive acts on behalf of their children with vouchers that they can use to "purchase" baby and child items offered through the Little Lambs store. Located inside the First Presbyterian Church, downtown Evansville, the store carries car seats, pack n plays, strollers, safety gates, diapers, breastfeeding supplies, baby bottles, sippy cups, clothing, and more. Little Lambs is a Child Passenger Safety Inspection Station and offers a Safe Sleep Program. Little Lambs is a 501(c)(3) nonprofit organization.
Our Vision
Little Lambs believes that a critical ingredient in our community's ability to thrive and grow is a culture in which every infant is guaranteed the opportunity to grow up in a safe and healthy environment.
Our Mission
We encourage healthy parenting acts that will increase the physical and mental development, health and safety of infants and children.