Little Lambs Store
Store Hours: 



Saturday 10am to Noon
Wednesday 2:00 to 4:00
Location:
609 SE 2nd Street (Corner of 2nd and Mulberry) Inside the First Presbyterian Church ,
Evansville, Indiana 47713
Baby items:
Diapers, wipes, bath products,clothing,umbrella strollers, play yards, bicycle helmets,and car seats. Please contact us for voucher amounts!
Who is eligible?
Any Pregnant woman or parent/guardian of a child 7 years of age or younger can earn Little Lambs vouchers redeemable for equipment and supplies at Little Lambs store.  Vouchers can be earned through our local partners.

Volunteer!

Scheduling a time to volunteer is quick and easy

.
Step 1:

Go to VolunteerSpot

(this link will take you to a new webpage) at this link:  http://vols.pt/pH4wHw 
Step 2:

Enter your email address (You will NOT need to register an account on VolunteerSpo
t) 
Step 3:

Sign up! Choose your spots (Saturdays 10-Noon or Wednesdays 2:00 – 4:00). VolunteerSpot will send you an automated confirmation and reminders. Easy!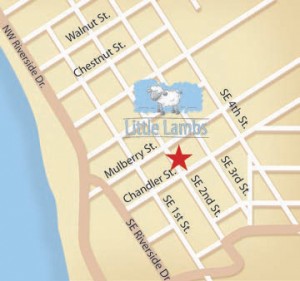 You can volunteer for Saturdays (10am – Noon) or Wednesdays (2:00 – 4:00).
Please contact the Store Coordinator with any questions you have about volunteering:
Tiffani Sinn Trulock
Phone (812) 425-5262
E-mail littlelambs.evansville@gmail.com